Okay. So sorry this has taken so long to get written, but here it is. My how I met the wonderful TJ Thyne.
Steph I'm putting it here because I think it fits better than in the Welcome section? I don't know...I just didn't want to put it with the questions because it is more noticeable as a new thread.
And..here we go!!!
Not sure you all want to hear this part, I told Sherry it might be boring, but when I was in the airport in Phoenix, where I had a two hour layover, I got a text that said…"Tonight we meet! Safe flight lovely lady!!!" No clue if that is boring to you but it wasn't to me. HAHAHA Then he told me to meet him in the lobby at 8:45 pm and the film starts promptly at 9. Which it didn't. HEE HEE
So, was in LA, Joey and Crystal are taking me to the theater that night, we were driving to get something to eat-they took me to Pinks which is a really famous hot dog place. On the way there I got another text that said "Welcome to Los Angeles Lovely Sharon!!!" (He likes exclamation points). Anyway, we went to Pinks and I'm sure it tasted good but I honestly was REALLY, REALLY nervous by that time so I can't say I know for sure. My stomach was jumping all over the place. It was 7:45 or so, so only an hour to go. Then they took me to the theater, I got out and there was a really long line of people to get in. And they were taking tickets at the door. I was confused, because I was supposed to meet TJ in the lobby and I couldn't get in without a ticket...and he had my ticket. So I stood there for a bit, when I heard someone ask the guy about a movie and he told them they had to go around to the "main lobby". I was thinking, wow there is a MAIN LOBBY. That is probably where I should be! So off I go, following the strangers to find the main lobby. HEE HEE. I got around to the main lobby and went inside but no sign of TJ, I was a bit early…so I'm looking around and outside there is a few people around this guy who looked really familiar
so I went outside and was standing there while he was talking to people and taking pictures and signing autographs. While I was standing there a woman came up and asked me if I wanted a ticket to his movie, and I told her no, he has my ticket but he just doesn't know it. She looked so confused. It amused me greatly. Then he finished signing and taking pictures and started to walk by me really quickly, and I said, "TJ…" and he turned, thinking I was another autograph seeker I think. And I said, "Hi, I'm Sharon…" and he said "SHARON!" then I got squished. Hard. For a really, really long time. LOL And then he kept saying, "Oh, you made it!".
Then I told him, that he was walking really fast and I really wasn't going to ask him for an autograph, to which he said, "I was thinking, I need to go find Sharon!" HAHAHA He's so smooth.
Anyway, then we went in to the theater and everyone was staring at us, but we went up to a guy and TJ introduced me to him but I don't remember his name! Something Kenny? Kenny something? LOL And that guy took pictures of me and TJ together. 3 times. I have no idea what those pictures look like…didn't get to see them. And then we are standing there and TJ introduced me to Scarlett Lam, who hugged me and off she went. I think I know why she is friends with TJ. All over the place!
Then I turn around and the guy that had taken our picture tells me and TJ that he is filming us now. So TJ goes into actors mode, telling that this was the first time we've met after 5 years…(pauses because crazy woman beside him whispers 3 years)…3 years of working together. Camera guy says really? First time? And then I have NO idea when he stopped filming, I met a woman named Melissa sometime around this point. I will admit, it all was going so FAST that I can't tell you how crazy it was. LOL Oh and I had asked him if some point in the evening I could get a picture with my camera, and he said, let's do it now, just to be sure. So Melissa gets the honor of taking the picture. Only I blinked in the first one (which was horrible and I deleted LOL), then she took another. I'm not so happy with this one either LOL Here it is: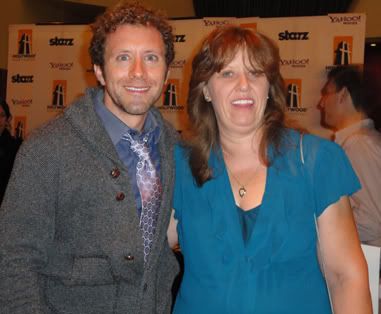 And then TJ says, wait, take one more…and this is what he did: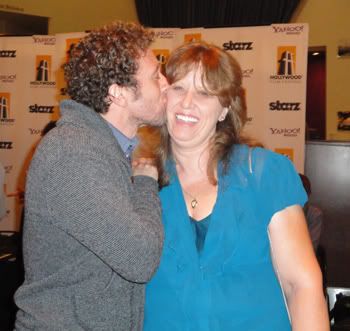 By the way, he told me he was gonna do it and I said "Noooooooooooooooooooooo", just like that, and he laughed and said yes and did it anyway. LOL I'm insane I know. And my camera has a red eye reducer on it so you have no idea how long we were standing there like that. LOL It was torture!
Anyway, he apologized that we were not going to have time to have a conversation; I told him I knew that and it was fine, I didn't expect it. And then he was gone. About five minutes later he came back and gave me my ticket and was gone again. I was standing there talking to Melissa still, and a few minutes later he pops up again and tells her "Hahahaha your ticket is funky but it should work" and off he went again. Her ticket was funky, with a lot of odd characters. So we are standing there and these two women came up, they knew Melissa so she hugs them and introduces them to me..I have no clue who they were, don't remember at all, but there was also a man with them, and Melissa introduced me to him and says his name is John. And John reaches out to take my hand, but then he decided he was going to hug me too (he hugged all the others). So that is how I met TJ's Dad, and got hugged by him. So I was hugged by two Thyne men in one night-not sure if I can handle that. TJ doesn't know I met his Dad. I need to tell him that, and that he hugged me.
Really nice man, TJ does look like him, his Dad has the blue blue eyes. Oh, I did forget to mention, when meeting TJ, you definitely notice the eyes. Looking at you. HUGE. VERY BLUE. EYES.
Okay, so yeah, I was there to see a movie. I'll tell you a little about it but I am NOT going to spoil it for anyone. Even if you want spoilers, I think it is very, very important that you do not know going in, I think it matters. The credits were cool. The music for the film is really good, composed and conducted by Kurt Kuenne. I think if they offer the music I'll get it, I really liked it. The movie, it is about Lovell Milo, who is living his life out of order, and then he is told he was given a gift, and that someone is in trouble and he needs to save them and to "Pay attention, dummy". So he does. And I was so sure he was going to figure it out, and it'd be all happy and you know what? The movie does end kind of happy but the reason he is living his life out of order is so cool! And I thought I had figured things out but I knew nothing.
That is all I'm going to say. When the movie ended everyone clapped really loudly for everyone. And then they introduced Kurt Kuenne so they could do the Q&A. And he asked TJ and Paula Rhodes to come down. Paula plays Lovell's wife in the movie.
I honestly cannot remember a lot of what was asked, there wasn't a lot, it only lasted 10 minutes or so. Someone did ask about distribution because they said they loved the movie, and hoped everyone could see it, and Kurt said that if they can get it into enough festivals, and it does well, they are hoping to get it out there by May of 2012. So everyone keep your fingers crossed. And if it shows up at a festival near you, or sort of near you, GO SEE IT!
Please. They asked TJ & Paula about which scenes were shot first, for Paula it was a Christmas scene, for TJ it was a scene in a car (there are several, not sure which one LOL). I really, really wish I'd remembered at this point that I can FILM on my camera, because I would have filmed it rather than just take photos. Which by the way, I'm going to load on the gallery in a SHUFFLE folder. So if you want to see the Q&A photos go there.
So after it was over a lot of people went to talk to TJ so I went outside into the hallway and was waiting for him to come out so I could say goodbye. I couldn't stick around because my wonderfully sweet friends had just spent the last 2 hours wandering around Hollywood while I was watching the movie, so I didn't want them to have to wait longer. Plus we had an hour drive to do to get back to their apartment. Anyway, TJ didn't come out so I finally went to find him to tell him goodbye. I told him I had to go…I got squished again, and another kiss on the cheek and a promise that SOMEDAY we will get to sit down and talk. And that this was just one of many, many meetings. LOL And then I stepped on his foot. HAHAHA. And we hugged again and I left.
Saturday afternoon I got a text asking me if I was home yet, but I was still in LA at the time. So I told him no, but made sure he made it to Indianapolis okay, and he said he did.
And that is the end of my Shuffle adventure.